When creativity is combined with technology it results in inspiring websites
Pixiders Inc is a Toronto based web application development company providing a wide range of web development solutions locally as well as all over the world. We pride in providing innovative and unique web development solutions to all your business needs. We thrive in great knowledge and skills in providing your small or big-sized business with web development solutions to give your business an edge. We believe that no two businesses are the same therefore the technology supporting your business operations should reflect the specific needs of your company. Our expertise ensures quality, proficient and swift execution of any projects ranging from small websites to complex ecommerce software and custom solution programming. We pride in our work and ensure we only provide custom designs and creative web solutions to all our clients.

Our Mission
Our mission is to provide affordable, premium-quality Web Development services that meet the business needs of our customers and that ALWAYS exceed their expectations. We pride ourselves on always putting our client's needs first, understanding that from the basic design of the project, to completion, we stay with our clients every step of the way and after the project is completed and delivered.

Our Vision
At Pixiders, we are guided by a set of core values that define who we are and what we believe in. We're committed to doing business with integrity, accountability, initiative and respect − respect for our employees, business partners, clients and our communities.

Our Core Values
At Pixiders we have Great Moral Values.
Our work is our passion and hobby to be able to provide solutions to our honorable clients.
We respect our client's time and effort and we accept work only if we can deliver it as per our client's requirements and maintain high quality.
We are Trustworthy - We do what clients want and honour our confidentiality agreements.
Helpful - we work as one team with our clients so that they can achieve their goals most effectively.
Inspiring - we create new possibilities to grow our client's business.
Straightforward - we make things clear before accepting work from our clients.
Heart - we believe in what we do and always-put 110% effort and heart in all our work.

Why Us?
At Pixiders our main focus is on clients requirements and needs and ensuring we provide them with only the best and creative solutions for their business, at an affordable price. What makes us unique is that we value our clients over profits. In short time we have built strong and successful relationships with both our partners and our customers.
Our team consists of professional, confident, honest, reliable and energetic developers and designers. Our team is always ready to learn new tools and technologies and always open for suggestions and techniques to improve our work. We are filled with new ideas and are passionate about our work. Fully loaded with all modern tools and equipment and always eager to learn new technology. We have more than 50% client repeat rate and they are very satisfied with our work. Most of our clients have built a long-term relation with us since we started in 2009. Our main focus is to provide quality and functional websites. Communication is an essential tool to succeed and to craft the best work and we involve our clients in every step of the way.
How Do We Do It?
We develop websites, web applications and software in a very simple and smart way. Depending on the size, type and budget of a project, there are four simple steps we go through.
The diagram below gives you a visual of our development process.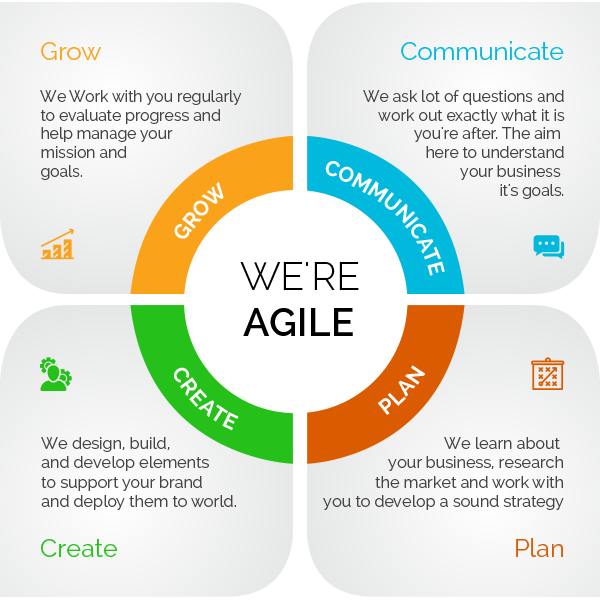 Communicate - Exchange thoughts, convey ideas:
Communication is key for any successful project. We exchange thoughts, convey ideas with you, ask questions and work out exactly what it is you're after. The aim here is to understand your business and its goals. We make sure that before we move on, we know how we can serve you to achieve your goals and this is exactly for what we are here, we simply help you to achieve your goals and aims.
Plan - A plan makes things happen:
To achieve a goal we must plan, how to make everything happen. A goal without a plan remains just a goal nothing more than a waste. Many people have visions, intentions, ideas, dreams which never happen, because they are not planned. We learn about your business, research the market, analyze everything carefully, keep an eye on your competitors and work with you to develop a sound strategy which can lead you towards your goal achievement.
Create - Bringing everything into existence:
A good plan is nothing without an effective strategy and proper knowledge in relevant field. Converting ideas into reality is not an easy process, our team works really hard to create what can give your goals the confidence of success. We design, build, and develop elements to support your brand and goals, test everything carefully at microscopic level and once you are satisfied we deploy everything to the world.
Grow - Become larger, greater, bigger, expand and gain:
We work with you regularly to evaluate progress and help manage your mission and goals.